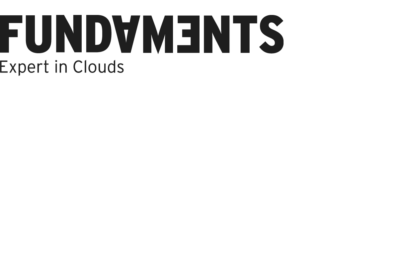 Fundaments is the expert in Clouds. Together with a team of 45 experts, Fundaments safeguards the mission-critical Cloud-based processes and activities of large business organisations. How they manage this? Based on 100% reliable and high-quality Cloud solutions and services.
The case
At the beginning of 2020, Fundaments approached us for the first time with the request for a new, refreshing corporate identity. Our designers eagerly got to work and in no time there was a new brand book that met Fundaments' wish list: sleek, playful and fresh. And whether they liked it? Hell yeah! Less than six months later, Fundaments approached us again with the request for a new website in the style of their new corporate identity. Challenge accepted!
The solution
We kicked off with a briefing in which Fundaments' wishes were discussed. Everything clear? Both parties agree? Let's go! And this process started with our designers. Wireframes were designed based on the previously developed corporate identity. After the customer gave us their assent, these wireframes were passed on to the development team. The realization of the website could be started. The entire Fundaments website has been developed from two block systems, of which one block system is used for text pages and one block system for the more visual and creative pages. This block system is easy for Fundaments to manage, so that they can make adjustments themselves in the future. Different types of fonts have been used for the headers of the website to give the website a playful look and feel. By keeping the wishes of Fundaments in mind and planning multiple contact moments with the customer, the process went very smoothly.
The result
A modern site with a fresh and playful look. The website has been incorporated in such a way that it can also serve for knowledge sharing in the form of Expert Base. Multifunctional! And when even Google considered the website of Fundaments a success, we can't be more satisfied.